Notification Sensors – Timely Notification by 2GIG
New 2GIG sensors enable more smart security and control than ever before. These easy-to-install solutions add multiple unique touch points to the 2GIG system. With this growing line, dealers can sell and install increasingly personalized systems that improve customer satisfaction and retention.
Early Awareness Brings Peace of Mind
The new notification sensors enable homeowners to be notified earlier in the "event cycle" such as when the stove is left on (before something catches fire) or when a leak is detected (before flooding damage occurs).
Customized Notifications
2GIG notification sensors provide early warnings with an unparalleled level of customized notifications for end-users through our back-end partners, such as Alarm.com. End-users can choose to get notifications on their smartphones via back-end partners' app, or alarms on their 2GIG panel or other compatible security panel.
---
Stove & Grill Guard Sensor (2GIG-STVGRL1-345)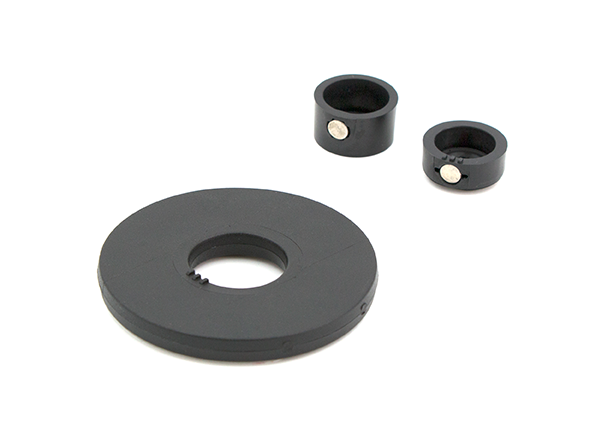 Provides effective awareness of burners that have been left on accidentally, whether after cleaning, cooking, or socializing. Ideal for families with young children or seniors.
Key Selling points:
The only professionally monitored sensor that will let you know a stove or grill is left on.
Personalized notifications on end-user's phone enabled via selected service provider/ back-end provider.
Key Features:
Timely notification on the security panel when the stove / grill knob is turned on.
Compatible with most common stoves or BBQ grills.
2GIG and Honeywell 345MHz compatible.
Available in an economical 4 pack.
P/N 2GIG-STVGRL1-345-4P.
Gun Motion Detector (2GIG-GNGRD1-345)
Built into a 3-digit combination trigger lock, the 2GIG Gun Motion Detector adds an important safety tool for firearm owners by providing a timely notification to the control panel when a firearm is moved.
Key Selling points:
The only professionally monitored trigger guard available.
Hardened steel lock deters unauthorized use of a firearm.
Key Features:
Fits many handguns, rifles and shotguns having a trigger guard.
3-digit combination trigger guard deters unintended use.
California Gun Safety (DOJ) Device Certified.
Not to be used on a loaded firearm.
Designed for use with Pistols, Revolver, Shotguns (non-lever action) and Rifles (non-lever action) with a trigger guard up to 2 1/2-inches long and up to 1 7/8-inches wide (external dimensions).
P/N 2GIG-GNGRD1-345
Outdoor Wireless Contact Sensor (2GIG-DW30-345)
The 2GIG Outdoor Wireless Contact Sensor expands the reach of security systems to outdoor areas, providing notification when outdoor gates or doors are opened. Able to handle harsh temperature conditions, this sensor is ideal for wide gaps when a typical contact sensor is insufficient.
Key Selling points:
Sensor enables a wide gap (2 inch) enabling sensing for applications from yard gates, and swimming pool access to detached garages.
Designed for extreme weather conditions (IP56). (-40˚ to 150˚ F).
Key Features:
Sends a notification to the alarm panel when a door, gate or window is opened or closed
Enables two unique zones. One is for an internal magnetic reed switch while the second is for a normally-closed circuit that can have external devices wired to it.
Can be painted to match its mounting surface.
P/N 2GIG-DW30-345
Water Leak Detector (2GIG-FT6-345)
Water Leak Detector provides notification before costly water damage and flooding happens. Water damage is the #1 residential insurance claim.
Key Selling points:
First in the industry to provide dual source protection against water leaks. -Drip notification when placed under a leaking water source.
Notification when pooled water is present.
Key Features:
Sends a notification if water is detected where it doesn't belong.
Easy installation. No screws or tools needed.
2GIG and Honeywell 345MHz compatible.
Hot and Cold ambient temperature warnings
P/N 2GIG-FT6-345
Flood and Temperature Sensor (2GIG-FT1-345)
The 2GIG Flood Temperature Sensor monitors the ambient temperature and will detect a wet/dry flood condition, reporting to the panel so that pumps can be turned on or off.
Key Selling points:
Automatically turn on or off devices in response to too much or too little water*.
Receive notifications due to low or high temperatures before damage occurs.
Key Features:
Probe style water sensor for water level applications.
3-minute delay allows for adjustment of water levels without sending a premature or false alert.
Set temperature alerts. Low temp protects against frozen pipes or hoses. High temp protects against heat related problems.
Wired probe allows for optimal positioning of the transmitter.
*Requires support from back-end partners.
P/N 2GIG-FT1-345
Installed anywhere, when the 2GIG Doorbell is pressed an easily identifiable chime is enunciated on the alarm panel and a timely notification sent to your phone when using a compatible application. Never miss a visitor or delivered package again.
Key Selling points:
Use on doors or anywhere a presence notification is needed. Someone is at the door or a package has been dropped off.
Programmable chime notifications provide customizable messages indicating which doorbell was pressed.
Key Features:
Wired or wireless doorbell installation.
Wired Installation illuminates button.
P/N 2GIG-DBELL1-345
Please contact your local 2GIG Distributor or Sales Representative for details.